When John Doerr ('73, '74) gave Luay Nakhleh a copy of his most recent book, Speed & Scale: An Action Plan for Solving Our Climate Crisis, he wrote on the title page: "Let's tackle this crisis together."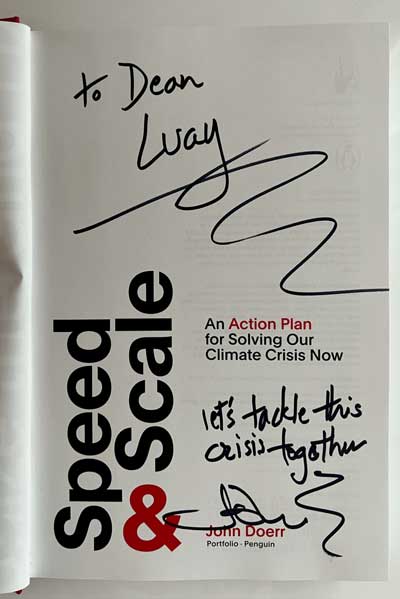 "Tackling the climate crisis is a big part of the driver behind REINVENTS. Houston is the energy capital of the world, and through REINVENTS our goal is to play a central role in turning it into the clean energy capital of the world," said Nakhleh, the William and Stephanie Sick Dean of Engineering at Rice. "We want to accomplish this in collaboration with the Houston industry, which I view as an ally in this endeavor."
REINVENTS, short for Rice Engineering INitiatiVe for ENergy Transition and Sustainability, launched with an initial commitment of $500,000 from the George R. Brown School of Engineering.
"We are launching REINVENTS to leverage our efforts in energy and sustainability. We will organize and coordinate the work being done which will result in not only greater collaboration across the school but also greater impact in tackling energy transition research challenges," said Aditya Mohite, associate professor of chemical and biomolecular engineering, and the faculty director of REINVENTS.
Research will target three critical areas: energy generation, long-term energy storage and development of efficient processes and materials platforms, all drivers for the sustainable and robust energy systems of the future.
Mohite cited such examples as harvesting sunlight to generate electricity, converting photons to fuels like hydrogen and ammonia, and developing clean chemistries and processes for generating various grades of process heat for industries. All can be utilized directly or stored to generate power and overcome the intermittency of such renewable energy sources as solar and wind.
"The most effective way to decarbonize industries," said Mohite, "is to create industry-academia-government partnerships with investments from these stakeholders to find scalable solutions with quantitative road maps to reduce greenhouse gas emissions and eventually transition from fossil-based energy sources."
REINVENTS will break down silos and build teams across industry, academia, and government to develop strategies that will address the challenges described by the U.S. Department of Energy's Earthshots.
"REINVENTS is much larger than the sum of its parts," Nakhleh said. "Addressing energy and sustainability transcends almost all of the school's research thrusts and is key to our social responsibility values. There's already an energy infrastructure in place at Rice. In addition, the university has embarked on planning for an institute focused on energy and the environment. We view REINVENTS as the School of Engineering's interface with university-wide efforts."
REINVENTS was created with guidance from the school's Engineering Advisory Board Energy Transition Committee and grew out of an August 2022 retreat attended by more than 20 faculty members, administrators and alumni. 
The initiative is also guided by an advisory board composed of engineering faculty members leading impactful research in REINVENTS' focus areas. Faculty members include Pedro Alvarez, George R. Brown Professor of Civil and Environmental Engineering; Pulickel M. Ajayan, Benjamin M. and Mary Greenwood Anderson Professor in Engineering, professor and chair of materials science and nanoengineering, and of chemistry; Daniel Cohan, associate professor of civil and environmental engineering; Naomi Halas, Stanley C. Moore Professor, professor of electrical and computer engineering, of biomedical engineering, chemistry, and physics and astronomy; Geoff Wehmeyer, assistant professor of mechanical engineering. Joining Rice engineering faculty as advisors are David S. Ginger, B. Seymour Rabinovitch Endowed Chair in Chemistry, University of Washington and Rangachary Mukundan, senior scientist, Berkeley Lab.
"We recognize that energy and sustainability are societal challenges that touch all disciplines across the university. Through REINVENTS, we hope to highlight the critical role our school plays in solving these challenges and identify ways to connect with other efforts at Rice," said Marcia O'Malley, the Thomas Michael Panos Family Professor in Mechanical Engineering and associate dean for research and innovation.
Participating faculty are formulating a REINVENTS "roadmap" to identify precise focus areas for the school and its existing areas of excellence.
"The roadmaps will be used to leverage and expand our research strengths as we tackle such energy challenges as generation, storage and efficiency," O'Malley said. "This will give us opportunities for strengthening collaborations with industry partners in the region and around the world."
"We are developing customized clean energy-based technological solutions with two-year, five-year and 10-year roadmaps," Mohite said. They will span technological readiness levels from understanding fundamental behaviors and mechanisms to developing high-efficiency, durable energy devices and systems."